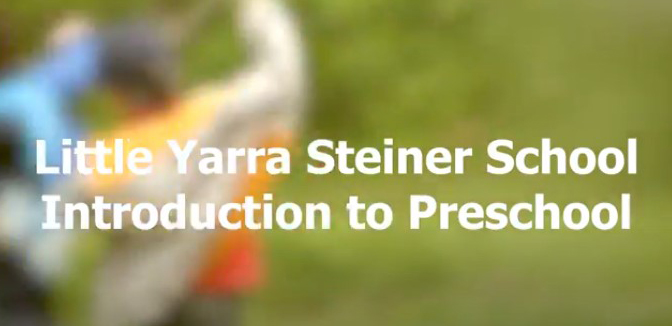 "We invite you to click on the image to the left to watch a brief video about our Preschool program.
We hope you enjoy it.
If you would like further information on our Preschool please contact our Registrar, Rachel Sinclair on rsinclair@lyss.vic.edu.au"
The years of childhood, from birth to seven, are a time of remarkable growth. This is a time of action and imitation, where children completely and unconsciously live and act their experiences and observations daily. In this way, it is important for teachers work with the children in leading by example.
During this time children take in the world without discernment, and so it is vital that the environment we surround them with is wholesome and good. The kindergarten teacher works to create an atmosphere in which there is respect and reverence for one another and the world around. The  structured and rhythmic nature of the daily Preschool program supports the children through developing a feeling of security.
A daily rhythm is established by balancing periods of self-initiated free play with times of more directed effort. Mornings may begin with a free play period followed by an organised activity such as bread baking or painting. Morning tea is another focal point, where the children often help prepare food and the table. At the end of a session, the children gather again for a closing story and song.
"If a child has been able to play, to give up his whole living being to the world around him, he will be able to, in the serious tasks of latter life, devote himself with confidence and power to the service of the world." – Rudolf Steiner
At Little Yarra there are three Preschool groups; Wirrip, Djirri Djirri & Murrum. Each group is in the care of a teacher and an assistant who provide the warm, secure environment in which the children will develop physically, socially and spiritually. Wirrip and Djirri Djirri consist of children ranging in ages from 4 – 6 years old (this includes Kinder and Prep children). Our Murrum group is for children who are 3 years old, turning 4 throughout the year. Children in our Murrum kinder group attend 2 sessions per week.
The current timetable is below:
Wirrip & Djirri Djirri
Monday
Tuesday
Wednesday
Thursday
Friday
Kinder part time
(children 4 turning 5)
Start - 8.45am
Finish - 1.00pm
Start - 8.45am
Finish - 1.00pm
No Sessions
Start - 8.45am
Finish - 1.00pm
Start - 8.45am
Finish - 1.00pm
Kinder full time
(children 4 turning 5)
Start - 8.45am
Finish - 3.00pm
Start - 8.45am
Finish - 3.00pm
No Sessions
Start - 8.45am
Finish - 3.00pm
Start - 8.45am
Finish - 3.00pm
Prep
(children 5 turning 6)
Start - 8.45am
Finish - 3.00pm
Start - 8.45am
Finish - 3.00pm
Start - 8.45am
Finish - 3.00pm
Start - 8.45am
Finish - 3.00pm
Start - 8.45am
Finish - 3.00pm
Murrum
Monday
Tuesday
Wednesday
Thursday
Friday
Murrum Kinder
(children 3 turning 4)
No Sessions
Start - 8.45am
Finish - 1.00pm
No Sessions
Start - 8.45am
Finish - 1.00pm
Start - 8.45am
Finish - 1.00pm
Murrum Playgroup
(children 2 turning 3)
Start - 9.00am
Finish - 11.00am
No Sessions
Start - 9.00am
Finish - 11.00am
No Sessions
No Sessions